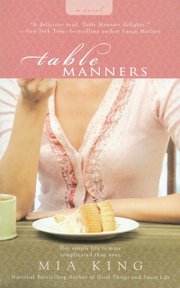 It would be natural to refer to the latest book by author Mia King as 'a tasty treat', or define it as 'easy to digest' because the novel is stuffed with references to food that bring catch phrases like that to mind.
A reviewer might also be tempted to suggest that this book, entitled Table Manners, is just the morsel to tuck in with your picnic lunch when you hit the beach on a late summer vacation. However, I intend to avoid all of the above, no matter how true it may be, as I share with Daily Sun News readers my impressions of this new offering from Berkley Books (Penguin Group).
First off, King is an experienced writer. She has two books, Good Things and Sweet Life, to her credit. Being published doesn't automatically brand King a good story-teller, but it does give the reader hope that she can be trusted to give us a believable plot and characters that have something in common with real folks. A brand I have found reliable is that little black and white, arctic fellow with the pointy beak, a figure that used to be stamped on books along with the Penguin name. Considering that bird's track record, I was confident that I would enjoy reading Table Manners, and its 284 pages did not hit a sour note.
King's novel is sort of a love story, sort of a career girl's struggle in the harsh light of the business world, and sort of a mix of modern day mores. Used here, the word mores may be unsuitable since it means the fixed, morally binding customs or manners of a group and, god knows, modern morals are sliding all over the place in today's world. Which they also are in this novel, but King's fictional slides are a realistic reflection of today's mores-pregnancy before marriage, an unwed mother, and intimate commitment between people of the same gender.
To her credit, King peoples her pages with these characters and situations in a non-judgmental manner that skims the surface and is not intended to, and does not, shock. Hey, folks, it is life as we now know it.
I think readers will like the main character, Deidre McIntosh, and the little pitfalls she climbs out of, only to fall into even larger ones. Unlike the pastries she whips up for her own line of cakes and cookies, this Seattle business woman is not sugary sweet. She has enough vinegar in her to tear off to Paris in an attempt to snatch her boyfriend out of the clutches of a glamorous, predatory, magazine publisher, but can still turn the other cheek to her boyfriend's sister, who is out to get her...and almost does.
My favorite character is a minor one, an old, rich guy who holes up periodically in a shabby, two-room cabin in the woods. However, it may just be the isolated cabin that appeals to the hermit in me.
The book also contains a smorgasbord of Seattle recipes for 10 entrees, five desserts and four drinks. If you made all of them, it would take more than 160 ingredients, but trying one or two might be interesting.
Taken all together, Table Manners is a good read.
One might even say this book is a delicious feast to be served up leisurely as the sun shines warm on your cheeks, the sea breeze blows gently through your hair, and you have nothing more to do than let the sand creep in between your toes.
- Frances Potts is a former newspaper reporter, editor and publisher.