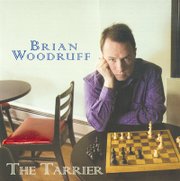 It's hard not to like a guy who's a chess geek, drummer and composer all in one.
That's Brian Woodruff, whose latest CD release, "The Tarrier," displays his talents as drummer and composer, as well as a knack for literature.
The title of the CD originates from a chess match that Woodruff played with a friend of his. Woodruff was well on his way to winning, but "tarried" in some of his strategy and the friend was able to escape with a draw.
Woodruff is an interesting sort, who on this CD delivers some interesting jazz tunes with Lisa Parrott on alto and soprano saxophones, Jacob Varmus on trumpet and cornet, Alan Ferber on trombone, Matt Clohesy on bass and Nate Radley on guitar.
Woodruff opens the CD with the title track "The Tarrier." After a tepid opening, the song picks up with a nice hook from the horn section, though the trumpet rambles a bit.
With three of his five musicians tooting horns, there is a lot here for those who like lots of trumpet and saxophone music in their jazz.
Sometimes the horns overtake the rest of the music a bit much, such as "Dijon Dance" with what seems to be endless trumpet runs.
The ears get a respite from brass on songs like "Trolley Museum," inspired by a melody that Woodruff made up and sang for an old girlfriend at a trolley museum.
After a wistful opening, Woodruff on drums and guitarist Nate Radley saunter on with the tune before a reigned in horn section sounds as one, forming a chorus as if it is serenading Woodruff's former gal pal.
I loved Radley's guitar on this and other songs, it left me longing for a bit more guitar and less of the trumpet blowing. To paraphrase Christopher Walken's humorous rant in an SNL sketch, "I gotta have more guitar."
Woodruff trots out a drum solo during "Trolley Museum," but by and large he's content to drive the rhythm with the drumming on this compilation of original compositions.
That's not to say the horn section doesn't help. In fact, it does lift some of the songs, such as in "A Wreath of Cloud," where a saxophone is light, ethereal in creating a sense of longing.
"A Wreath of Cloud" and "Trafalgar Square" were both inspired by novels Woodruff has read. The latter was inspired by W. Somerset Maugham's Of Human Bondage.
One of the easiest songs to like on the CD is "Into the Fire," which has a guitar/drum intro that sounds like something from The Doors.
"Into the Fire" is the most accessible of the songs on this CD, a good, retro sounding tune for those, like myself, who don't have a history with jazz.
I like the way Woodruff is quick to cite his sources of inspiration, as he does in the song "Chorale."
"Chorale" sounds like it's from another century. It's anthemic, moving, makes you want to take your hat off and put your hand over your heart. There's a reason it sounds like it's from another era, classical. That's because Woodruff notes it is inspired from classical music, the Viennese composer Schubert to be specific.
As noted, it's hard not to like a guy as multifaceted as Woodruff; chess player, book buff and drummer/composer.
And it's hard not to like "The Tarrier." I'm not a jazz fan so it's not a CD I like well enough to run out and buy. Still, for those with an ear for jazz or thinking about acquiring a taste for jazz, "The Tarrier" has its merits.
If you don't want to tarry in checking out Woodruff's music, visit him at www.myspace.com/woodruffbrian
More like this story