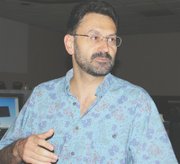 PROSSER - The region of Mendoza, Argentina experiences similar climates to Eastern Washington, but the grape growing season is longer and pergolas assist in producing higher yields and sugars.
That's according to Washington State University Prosser Extension educator Marcus Keller, who spoke this past Thursday to those attending the monthly grape fieldman's breakfast in Prosser.
He was in Mendoza, Argentina this past May, teaching a grapevine physiology class and visited numerous wineries and vineyards there.
One test vineyard in that area has been in place since 1979 and 720 different varieties of grapes have been grown there, according to Keller. He said that vineyard, as well as many others, has been afflicted by leaf-roll and the growers have to combat the issue just as Eastern Washington growers do.
What the growers in Argentina also must protect their crops from are hail storms, said Keller.
He said hail is a problem there, and growers erect hail nets. Some are experimenting with vertical nets, nets over entire vineyards and tent nets over individual rows.
The vineyard rows are narrow, much like those in Europe. Some are grown to form pergolas. The pergolas create a canopy approximately six feet high.
One grower with his own pergola system, which consists of arching vines, yields approximately 20 to 30 tons per acre, unlike the nearly 12 tons per acre typical of Eastern Washington vineyards.
Keller said the European influence of such growing methods combined with the longer growing season allows the grower to let grapes hang on the vine longer. That also increases the sugars in the grapes.
He said many of the new vineyard developments in Argentina utilize drip irrigation systems, others utilize "flood" irrigation or real irrigation.
Otherwise, the rain shadow effect, created by the Andes Mountains, provides the region similar climates to those created by the Cascade Mountains.
Also similar to Eastern Washington is the development of new wineries. Keller said Europeans are investing in the region and new wineries could be seen under construction just as they are in Eastern Washington.
"Argentina has always been into wine, but now they are learning to be sophisticated exporters," he added, stating the Argentinians develop wines that appeal to wine connoisseurs of various parts of the world.