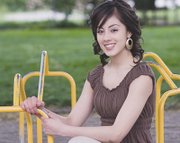 Sunnyside High School junior Blanca Mejia is eager to share her culture with others. That's why she's selected a Mexican folkloric dance as her talent when she competes in September for the title of Miss Sunnyside.
"I was first introduced to it through the Latino Culture Club," says Mejia. "Once I decided to run for Miss Sunnyside, I thought, 'This is great!' because it represents my culture. I felt like it'd be the perfect talent for me."
At first, learning the dance with the help of Grandview's Maria Pulido was daunting. When watching others, Mejia was befuddled and wondering, "How can they do it all in unison?!"
Now, though, the Miss Sunnyside candidate is getting the hang of it. She'll dance to the song "El Son de La Negra" and says, "It's all about the feet and the skirt, the movement of the skirt."
Mejia's hoping for a spot on the court so she can overcome her shyness.
The reason why she's running, she says, "is primarily because usually I'm really reserved and quiet. This is a good opportunity for me to get out of my shell. Not only that, but there are a lot of benefits for the future."
Mejia is already learning to become more of an extrovert through the Latino Culture Club at the high school.
"Through that club, I was able to go to Washington D.C., Olympia, Gonzaga-a whole bunch of conferences," she says excitedly. "Not only will Miss Sunnyside help me come out of my shell, but the club has too."
Mejia says the club has an emphasis on both culture and leadership, which she has a strong appreciation for. And, she adds, the advisor interaction with the students plays a large part in the club's success. Mejia says she's learning "leadership and confidence....all those good things."
Of the club, she says, "It works. Regardless of who you are and the struggles you have faced, it works. It's more than just going places. Everything they do has purpose, every activity. And leadership (emphasis), too."
Mejia's particularly grateful for the emphasis on culture. She says her parents, Jose and Bertha Mejia, came to the United States to give their children (Humberto, 17, Blanca, and Lucero, 10) a better life. "They want us to have a good education. He (her dad) has sacrificed a lot for us and it's seen throughout the nation-not just my family. There are a lot of families throughout the nation that face the same struggles and sacrifices."
Mejia treasures every bit of culture her mom and dad instill in the home. There's an intense appreciation for family in the Mejia household and her extended family's households. She said they love to unite and visit over favorite Hispanic food dishes. "It's not small quantities, it's big quantities of food," Mejia says with a laugh. Her favorites? Menudo and posole.
Mejia's strong family upbringing has instilled a passion for working with the elderly. That's why she has chosen Sun Terrace Assisted Living and Retirement Community as the place she'd like to serve should she be selected Miss Sunnyside. In fact, she'd not only like to read with the elderly and do fun things like play bingo with them, but she'd also like to enlist the support of younger kids in the community to come spend time with the elderly.
"I remember when I was small, we would go play games (with the elderly) and it just makes your heart feel good. I want to help promote volunteering time, especially with little kids. That makes the elderly happy and younger kids want to do it and have the time to do it."
Mejia's sponsors for the Miss Sunnyside Pageant include Highway Fruit, Marquez Daycare, Sunny Spot Car Wash and the Edison Market.