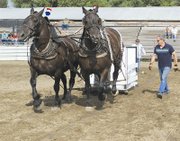 GRANDVIEW - What snorts a lot and easily pulls 10,000 lbs.? That would be this year's draft horse heavyweight champions.
The two large Belgian draft horses pulled 10,000 lbs. 20 feet to win the heavyweight class last Friday at the draft horse team pulling event at the Yakima Valley Fair and Rodeo in Grandview.
Twelve teams competed in the event, the first time it was held in Grandview in what event organizer Bryce Humpherys said was, "...a very long time."
Draft horses trace their origins from northern Europe where the large horses were bred for warfare. They were heavy chargers that carried men into battle. When horse warfare became obsolete draft horses were transitioned for use on farms and docks.
Most of the draft horse teams competing in Grandview last Friday were owned by members of the Washington Draft Horse and Mule Association. One team competing was made up of mules.
Owners of the draft horse teams don't travel from town to town competing in these contests for money. They do it for fun, said Don Lee of Estacada, Ore., and because it's a hobby. Lee has been a teamster for the past 34 years. He had the tallest pair of draft horses on hand last Friday. His team of Rock and Chase, both Percheron breeds, were 17 1/2 hands and 17 3/4 hands, respectively.
The most popular breeds of draft horses are Belgians, Clydesdales, Percherons, Shires, Suffolks and draft mules.
The competition begins with each team of horses pulling a weighted sled. Once the team pulls the sled 20 feet, they move on. After every team has had an opportunity to pull the sled, more weight is added in 1,000 lb. increments.
The 12 teams were split into two divisions, heavyweight and lightweight. Any team with a combined weight under 3,500 lbs. was considered a lightweight. Over that number and the team was a heavyweight.
Bob McGowan and his team of horses won first place honors in the heavyweight class. McGowan was followed by Randy Dodge of Albany, Ore. His team pulled 10,000 lbs. a distance of 18-2. McGowan, of Lebanon, Ore., also got third place honors with another one of his teams. They pulled 10,000 lbs. a distance of 17-8. Jerry Lee's team from Boring, Ore. took fourth and Rick Cameron of Arlington came in fifth.
In the lightweight division Carson Witman of Ferndale came in first with his team. The two Percherons pulled 9,000 lbs. a distance of 9-11. Jerry Lee Jr. of Boring, Ore. got second place. His team was able to pull the 9,000 lb. load 45 inches. Placing third was Dawn Forman of Boring, Ore. Her team pulled an 8,000 lb. load 15 feet. Randy Dodge used his second team to pull in a fourth place finish and Ralph Janshen of Grandview grabbed fifth place honors when his team pulled the 4,000 lb. sled three feet.
Zillah's Donny Mengarelli's team of mules, Joker and Arnold, got the nod for crowd favorite.
"We had a great turnout from the community," Humpherys said. "I was just thrilled to look up and see the stands full."
Humpherys said he would like to make the draft horse pulling event a regular staple at the Yakima Valley Fair & Rodeo in the future.