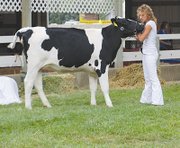 GRANDVIEW - Yakima Valley residents were treated to a grand celebration at the Yakima Valley Fair and Rodeo this past weekend.
Three concerts, featuring David Harsh, Acapella and Brandon Cash, were provided for attendees, as was a car show and much more.
There was something for everyone. The youngest citizens in the valley participated in the annual diaper derby, while members of 4-H and FFA exhibited their skills at raising and training the many animals shown at the fair.
Amidst the excitement OMSI hosted a science exhibit, featuring numerous games and reptiles. There were also demonstrations for those visiting the exhibit.
Making a mess of themselves, youngsters participated in a watermelon eating contest, with a final showdown between Sunnyside's Stetson McMinimee and Kolton Wentz of Selah.
Also at the fair were numerous vendors and yummy food choices.
It was a grand 'ole time in Grandview, marking the city's 100th anniversary.