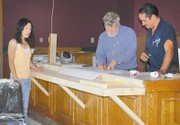 \The building has been vacant for nearly three years, but won't be much longer.
Yan Kang has been hard at work, renovating what was Sunnyside's Pizza Hut eatery for more than 20 years.
She will be opening Sakura Teriyaki and Sushi, a family restaurant that will feature a number of teriyaki and sushi items on its menu.
The name Sakura means cherry blossom and the restaurant is blooming with possibilities.
"There will also be a small Chinese food menu," said Mid Valley Mall Manager Greg Meshke.
Kang said her restaurant will feature a combination plate consisting of both teriyaki and Chinese menu items for those who have difficulty deciding which to eat.
She was the owner of a successful restaurant in Bellingham and sold it. Meshke began discussions with her last year about the possibility of locating to Sunnyside.
"I thought Sunnyside and the location would be a good fit for her," he said.
Agreeing, Kang said the need for a new restaurant and the location of the old Pizza Hut building convinced her she could be successful.
She wasn't the first prospective proprietor Meshke spoke with about the location, but Kang impressed him with her visions for the building.
"I like sushi," he added, stating the popular Japanese cuisine is not something readily available in the Lower Valley.
Kang said all the sauces at the new restaurant, with the exception of wasabi, will be made on-site.
"That's sweet and sour, chili, salad dressings and teriyaki sauce," she said, stating she hopes to appeal to the various tastes of her customers.
Also featured at the restaurant will be a sous chef. Customers can sit at the counter and watch as the chef creates their meals, or can opt for booth or table seating.
"Yan will have to-go service for her customers, as well," said Meshke.
Currently, Kang is busy remodeling the interior, with hopes of creating an atmosphere with an Asian flair. She has installed new flooring and paint, as well as benches she is staining herself.
"A lot of work is going into the restaurant and I am happy Yan chose this location, knowing how much work needed to be done," said Meshke.
The hope, said Kang, is to have the restaurant open for business in September. In the meantime, Sunnyside residents will see changes taking place at the location, including a new roof color.