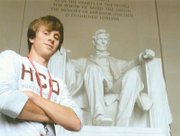 Sunnyside High School senior Matt Hatfield got a treat last month when he spent two weeks in Washington D.C. attending the Congressional Academy.
A self-described history buff, Hatfield learned about the program from his history teacher. Hatfield had to write an essay on why he wanted to go and was one of two Washington state students selected to attend the academy.
"I've always had a strong interest in history and I wanted to add to that knowledge," Hatfield said. "I also haven't traveled that much and thought this would be a good opportunity to see all the historical sites."
The June 28-July 10 academy led Hatfield and other students through a careful study of pivotal turning points in American history, such as the Declaration of Independence, the Gettysburg Address and Martin Luther King Jr.'s 'I have a dream' speech.
Each day started with two one-hour classes. After which the students would discuss what they learned. They would then visit a new place. One day it was the Capitol building, the next it was one of the memorials.
Hatfield said he and other students were also able to visit Philadelphia, where he saw the Liberty Bell and other historic sites. The students also visited Gettysburg.
Hatfield's favorite tour was the Capital building.
"I never could have imagined what it looked like," he said of the building.
He also saw the White House, which looked smaller to him than what he expected. The large field in Gettysburg where the famous battle raged for three days was also a wondrous site to him, but he admitted he had a hard time imagining what went on there so long ago.
Besides meeting and making new friends, Hatfield said he now has a better appreciation for the history of the United States after attending the academy. Describing some of the things he saw as 'amazing,' Hatfield said he would recommend the academy to any history buff.