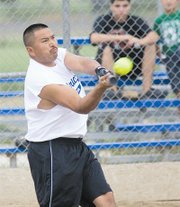 It was the best of the best on the diamond, the Nationals versus the Americans. Only it wasn't Major League Baseball's mid-season classic, it was the Lower Valley Men's Slowpitch Association's season ending all-star game.
The contest was played last night, Tuesday, at Sunnyview Park with a number of family and friends in the stands to watch the proceedings.
Each of the eight teams in the league were represented in the all-star game, apportioned based on how the teams fared during the regular season. The higher a team's standing, the more players it gets to have in the all-star tilt.
There were plenty of high fives and fist bumps between the National and American players, but once the first pitch was tossed they got down to business and gave it their best.
"Once you say play ball the competitive spirit takes over a little bit," said Bob Sarmiento, who runs the league.
The game was competitive early, with the Nationals using a five-run second inning rally to hold on to an 8-5 lead over the Americans after four innings.
Behind the pitching and hitting of Jeff Jensen, the Nationals pulled away over the final five innings to win 23-11. The Nationals removed all doubt by posting five runs in each of the fifth, sixth and seventh innings.
Trailing 23-7 in the bottom of the eighth, the Americans made some late noise with four runs on five hits in the frame. The Americans were shut down in the ninth inning, though, as a nicely turned double-play ended their hopes.
Besides keeping the Americans in check through nine innings from atop the pitching rubber, Jensen was 4-for-4 at the plate with two home runs and four runs batted in. Jensen earned the National team's MVP honors for his play.
Other standouts for the Nationals were Bob Sarmiento Jr. (4-for-4, four RBI), Casey Jensen (2-for-3, one RBI), Eddie Rodriguez (3-for-4, one RBI) and Chris Longoria (2-for-4, three RBI).
Leading the Americans was Steven Sanchez with a 3-for-4 day at the plate and one RBI to earn team MVP honors. Other hit leaders for the Americans were Chief Palomarez (3-for-4, two RBI), Mark Christopherson (3-for-4, one RBI) and Jason Garza (3-for-5).
Prior to the game, teams paused for a moment of silence for former league players who have died. The league also had a plaque that recognized the names of its deceased players.
"It's a good thing for our league," said Sarmiento. "You don't want to be on that plaque, but we want to honor them."