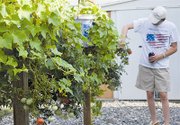 When Kevin Morris's health forced him into early retirement, the Grandview man found a new, creative way to keep himself entertained by growing a garden.
At the time, Morris lived in an apartment complex. With the blessing of the apartment owners, he then began creating gardening space out of every nook and cranny that featured dirt.
"I didn't have much area, so I did the ol' strip garden there between the fence and the blacktop," he says. "It was maybe two feet wide and about 50 to 75 feet long."
The soil, he says, had very little nutrients to it, so he often added manure. He grew peppers, tomatoes and cucumbers. "There was no room for row crops," he says.
After many years of gardening in his little "strip," Morris moved and now has a 20 to 30 foot space to put his green thumb to use.
When Morris saw a commercial for an item that seemingly defies gravity by growing tomatoes upside down, he said to himself, "I could do that!"
He then set about buying five-gallon buckets, carving out holes throughout the sides. There, he planted tomatoes and in the top, lemon cucumbers. They flourished and his harvest is bountiful.
Morris, like many others, learned by trial and error.
But what about novice gardeners who haven't learned by trial of fire?
Novice gardeners have many questions right now, like how to water in extreme heat, why tomatoes are growing but not reddening and why jalapenos, even if they're red, aren't getting spicy.
Master gardener Diane Pieti tackles the water issue first.
"Put down a layer of mulch," she says. "The sun can't bake the moisture right out of the ground that way."
Mulch, she says, can take on many different forms, but perhaps the cheapest and easiest is grass clippings. And, she says, "Water early in the morning. Don't water in the heat of mid-day, do it when it's cooler and won't evaporate."
She also recommends watering only once a day. "We (master gardeners) tell everybody to water in the early morning and forget about it." Plus, watering at night, she says, increases the chance for mildew to form. And, she says, "A lot of plants don't like water on the leaves. Let (the plants) dry out before nightfall."
But, she notes, "If you see a plant in stress, give it a drink."
She said recently a fellow master gardener wrote a column about tomatoes slow to redden.
"Give pruning (a try)," she says. "Not everybody advocates that, but we want to give strength to (existing) tomatoes.
"You also might want to back off watering just a little bit. That might help them get ripe."
Another common problem is that the tomatoes aren't getting enough sun.
Teressa Seiders, who enjoys toiling in her aunt's garden in Prosser, recently pruned back sunflowers to allow tomatoes and other veggies to flourish.
Said Seiders, "There were so many, we had to hack a bunch of them out so the vegetables and tomatoes could get enough sun. It was a great (treat) for the cows!"
Many novice gardeners get their tomato plants in the ground too soon, she says. "They sit there and shiver and then finally get going. They don't like extremes."
Gardeners fretting about ripening tomatoes is common, she says. "I believe people will get them ripe. I really do. We still have a month (of harvest)."
As for jalapenos lacking spice, Pieti says it's a good question, one that she doesn't have an answer for.
Another frequent question is whether or not there's a best time for harvest. The answer, says Pieti, is no.
"Everything gives off signals when it's ready," she says.
Pieti says master gardeners advocate the idea of sharing produce from the garden, something Morris does on a frequent basis.
"There's a lot of food here for one man! I live in an old folks' place. I supply all of them-that's the deal here."