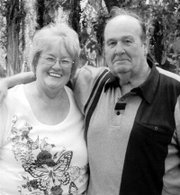 Outlook's Nancy and Dallas Wyatt recently celebrated their 50th wedding anniversary with a family camping trip in the mountains. Later, the Wyatts were surprised with a four-day getaway to Laughlin, Nev. Another surprise treat for the couple was a limo ride through the Yakima Valley once they got home.
The couple married on Aug. 8, 1959.
The Wyatts have four children; Kari, Cheryl, Randall and Bruce, as well as 14 grandchildren and four great-grandchildren.