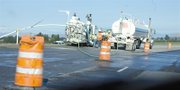 Westbound commuters that utilize I-82 from Grandview to Granger have likely noticed delays as construction crews go about their business.
Is there an end in sight?
According to WSDOT's Paul Gonseth, work on the corridor should be completed by late September, early October.
WSDOT says the roadway is developing faulting between panels, resulting in a rough ride and accelerated deterioration, especially in the right lane.
Dowel bars are currently being installed in the wheel paths between each concrete panel. The slots have already been cut and crews are expected to continue to chip, place dowel bars and fill slots for the rest of this month, according to WSDOT.
Originally, $11.4 million in American Recovery and Reinvestment Act dollars were committed to the project. According to WSDOT, the new total project cost is estimated to be $7.2 million.
According to Gonseth, the work on the westbound I-82 Grandview to Granger project is one-third complete.