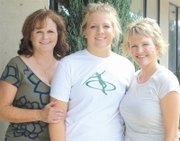 With their daughters heading to college in a few weeks, Sharon Tyler and Sharon Dolan decided to send them away armed with some defensive tactics as a precaution.
Tyler, daughter Megan, Sharon and daughter Molly all participated in a RAD training exercise held recently here in Sunnyside.
RAD means Rape Aggression Defense and the idea is to help women react in the proper way if they are attacked. Women are not only advised what they can do, but get a chance to try out the moves in a work-out with safety padding.
RAD also helps women know what situations to avoid as a way to lessen their chances of being an attack victim.
"Trust your instincts," Sharon Tyler says of the lessons learned through RAD. "When you're walking in parking lots stay on the outside, don't walk between cars."
Sharon Dolan noted that the RAD course helps a person react to a potential rape situation in a way that surprises the offender.
"You're first instinct is to fight," she says. That can be a bad move, though, if the person is stronger than you. Dolan says there are smarter moves that can be made to catch the offender off guard and get away.
Sharon Tyler noted that if you react in an unexpected way, it requires the offender to re-think the strategy, giving time for a get-away.
Megan Tyler, who is headed to the University of Washington, says she feels more confident since taking the class.
"I always thought I could take anyone," she says. "But if I am confronted by someone stronger I have tools to get away instead of freaking out."
The mothers and daughters also learned in the class that people are often the victims of assault at the hands of someone they know or are dating.
The two moms say they feel better about their daughters heading off to college, and say they appreciated the class for their own learning.
"It gave me some tools that are relatively simple that I wasn't aware of," Sharon Tyler said. She added that the RAD program, offered in this area by Valhalla Security of Yakima, is free if someone wants to repeat the same course after having paid to go through it once.
For more information on the class, contact Valhalla at 509-910-3919.
Tyler says the tactics learned in the 12-hour class are not shared outside of the class to keep would-be attackers in the dark about what would await them if they decided to move in.
Sharon Dolan would like to see more people experience RAD training.
"I hope more people take the class," she says. "It's very empowering."