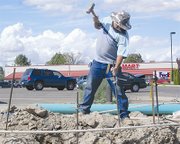 Since March, Sunnyside residents and motorists have experienced delays, dust and bumpy roads as crews widen and re-surface South First Street.
The project was initially planned to be finished in September, but Public Works Director Jim Bridges said the end date has been moved to Oct. 29.
The delay, he says, isn't connected with the actual street work, but with new traffic signals to be installed at South First Street and Lincoln Avenue.
Bridges said the signal has to be specially ordered and assembled to meet the city's specifications. Because of that, Bridges said from the beginning he questioned the original contractor estimates that the whole project would be done in September.
Even so, final paving for road improvements on South First Street and South Hill Road should wrap up in early September, Bridges says.
The project is funded by more than $2 million in federal and state grants.
A delay for new traffic signals is a relatively minor hiccup compared to the drama that unfolded before the road project got started.
First, the city initially looked to include a roundabout in the project, but did away with it in a cost saving mood.
Then the city ran into trouble with purchasing the rights of way needed for the road widening as property owner Tom Paul took the city to court and began a roadside sign campaign.
That was resolved last year, which allowed the road construction project to begin this past spring.
When completed, the newly surfaced South First Street will include a turn lane, as well as curb, gutters and sidewalk.