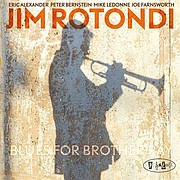 Ray Charles fans will appreciate trumpeter Jim Rotondi's latest release, "Blues for Brother Ray."
According to Two for the Show Media, Rotondi cherishes memories of playing with "Mr. C" during the formative years early in his career.
Rotondi's been playing trumpet since he was 12-years-old and his experience shows.
This CD features Rotondi's skillful style, as well as that of tenor saxophonist Eric Alexander, guitarist Peter Bernstein, drummer Joe Farnsworth and Mike LeDonne working the organ.
Track two, "Baby, It's Cold Outside" is a flirty number, while "Brother Ray" is more serious.
The song "Brother Ray" is a slow-starter, but when it picks up, so do your spirits. Soon, it gets down and dirty and worthy of Ray Charles' attention were he still alive.
Track six, "Makin' Whoopee" is a sexy little number, excellent romantic background music when cuddling up with your significant other over a glass of wine.
One challenge I've got with this CD is that some songs seem like they run right into each other and sound the same.
That shouldn't prevent you from buying this CD though, should you be a jazz lover, and especially a trumpet fan.
- Lynda Jo Staples can be contacted at 509-837-4500, or email