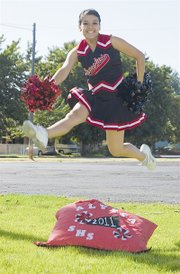 If we didn't have our elders, the Sunnyside community wouldn't be what it is today. That thought is sounded by Corinna Alyssa Romero, and should she be selected to serve as Miss Sunnyside, she'll ensure they're entertained and honored.
"I don't think (elders) should be left out," she says. "They are still a valuable part of this community."
Should she be selected to serve as Miss Sunnyside, Romero intends to become involved at Hillcrest Manor as part of her community service project. "Elders," she says, "Shouldn't be forgotten."
It was Romero's little brother Elias, 10, who encouraged her to take it on as a challenge.
Romero explains that in the past, her little brother had gone with a group to sing and entertain the elders and he's actually the one that accompanied her to go speak to the administrator about a possible service project.
"I want to do fun things for them during the holidays, or even dances where the (Miss Sunnyside) court will go," she says of engaging the elders in activities. "We can even bring our own families."
Adds Romero, "I want them to spend time with the court on outings, have them recognized as our people."
Romero, the daughter of Ray and Rachel Romero and sister to Ray Jr., 24, Anthony, 22, Sophia, 17, Samuel, 14, and Elias, notes that's she's fortunate to have close relationships with her grandmother and grandfather, whom she has deep reverence for, especially her grandmother. "My grandma is a great role model to me. She's given me a lot of support, taught me a lot, she's given me everything."
Romero's excited to follow in the footsteps of her aunt Irene Sanchez, who ran for Miss Sunnyside years ago. While Sanchez didn't make the court, she does have pearls of wisdom for her niece. "She's helping me out, she's supporting me...she wants tickets already!," Romero says with a laugh.
Romero's part of a tremendously large family that often gets together to barbecue and enjoy each other's company. The family is large and it's growing. During family get togethers, she says with a laugh, "Everywhere you go, you see a baby!"
For the talent portion of the Miss Sunnyside Pageant, Romero will do a hip-hop/ballet dance mix to the song "I Believe." She's getting help from her cousin Casey Romero, who served on the Miss Cinco de Mayo court a few years back.
Why dancing? "I'm not the greatest singer and I stopped playing clarinet a long time ago," she jokes. "I've danced before for cheer and have done little dance camps here and there."
Romero's eager to break free from big sister Sophia's shadow. Both have played volleyball and both have been cheerleaders. That's one motivation for running for Miss Sunnyside. "I want to do something other than what my sister's done."
At Sunnyside High School, she's been involved in Key Club, Pep Club, TRIO and will take on the Latino Culture Club this coming school year. "I'm looking forward to that," she says, adding that the LCC introduces students to Mexican folkloric dancing. Of the club, she says, "It seems like a lot of fun and it's something new to try."
Romero's sponsors for the Miss Sunnyside Pageant include Sunnyside Physical and Sports Therapy, Learning Land Express, Bill's Auto Clinic and Jory's Therapy.