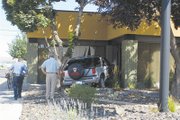 Employees at DK Bain Real Estate Inc. encourage customers to visit their Sunnyside office. They just don't want them to drive their vehicles in.
Employees were shaken and startled, but not hurt, yesterday, Thursday, when 56-year-old Jerry Groen crashed his GMC Jimmy through two plate glass windows.
"I was sitting at my desk when I heard a really loud noise," recalled Laura Torres, a secretary at DK Bain. "I turned...everything was in slow motion...and the vehicle came through the window."
Damage to the building consisted of the two, nine-foot tall windows, a brick column and some landscaping.
Ken Nelson, owner/broker of DK Bain, said the dollar cost of the damage is unknown at this time. The windows are boarded up for now.
Sunnyside police were immediately called when employees said Groen tried to back his vehicle away from the building. He was unsuccessful, however, since the vehicle was stuck. Police arrested Groen and charged him with DUI. He was booked around 6 p.m. but is no longer in custody.
Employees believe someone was looking out for them yesterday among the noise and flying glass of the accident. Nelson himself was sitting right in front of one of the windows before the accident.
"No one was hurt and that's a blessing in itself," Torres said. "We usually have customers waiting in that area. Thank God no one was here when it happened."