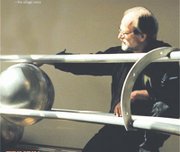 TIETON - Those looking for a brief escape, wanting a weekend of entertainment and good food are encouraged to join the community of Tieton in celebrating its annual Community Days event.
Community Days will take place Friday through Sunday, Aug. 21-23.
The summer festival will feature "Sunny Side Up," a film festival hosted by the Artist Trust Saturday and Sunday, Aug. 22-23.
Included in the film festival Saturday at 8 p.m. will be Peter Esmond's documentary "Trimpin: the Sound of Invention." Following the screening of the documentary will be a reception, featuring Trimpin and several sculptures installed in the Warehouse and in Galeria Tres.
Tickets are $20 for Art Trust members and $25 for general admission.
The film festival will also feature other videos and films about Washington artists. The festival takes place at the Mighty Tieton Warehouse.
Parade enthusiasts can enjoy one Saturday at 10 a.m. Youngsters interested in entering a bicycle in the parade can decorate their entry at 5 p.m. Friday. A car show will begin at 6 p.m. Friday and a poker run begins at 7 p.m. that night. A kiddie parade is scheduled to start at 9:45 a.m. Saturday, preceding the regular parade.
Charros, or Mexican dancing horses, will entertain those attending the festivities at noon that day, and free kids games will be provided at the same time.
The Yakima Health District handwashing van will be available from 11:30 a.m. to 5 p.m. Saturday and the Naches 4-H petting zoo will open at noon.
Also on Saturday, will be entertainment on the stage. The Highland High School drill team and band will perform the Highland Fling. Banda Centenario, La Casa Hogar dancers, Black Bisquit, Pitty Dogs and Old Time Fiddlers are also on the list of featured entertainers that day.
The Tieton Lions Club will host a pancake feed Sunday from 7 to 10 a.m., and a community worship service is scheduled at Tieton Square from 10 to 11 a.m.
A special celebration for artists will take place from noon to 3 p.m. Sunday.
Vendor booths will close at 3 p.m. that day.
Also happening in Tieton is the Richard Steiner Japanese Printing Workshop. The four-day workshop is scheduled for Saturdays, Sept. 12 and 19, and Sundays, Sept. 13 and 20.
The workshop is offered at the cost of $275, and includes supplies.
For more information about the workshop, visit imcclains.com, or contact Karen Quint via email at Karen.quint@comcast.com.
Aug. 12 through Sept. 13 is the Tieton Invitational Print Arts Exhibition, featuring print art from four-dozen artists from Mexico, the Northwest and points beyond.
The art is curated by Fay Jones and Barbara Roberson and presented by Goathead Press and Mighty Tieton.
The exhibit is open Wednesday through Sunday from noon to 3 p.m.
Those with an appreciation for poetry can attend LitFUSE 2009: a Poet's Workshop.
The workshop will take place in Tieton Friday, Sept. 25, through Sunday, Sept. 27.
Canada's poet laureate emeritus George Bowering, as well as American Book award winners Carolyne Wright and Judith Roche will be featured among the faculty at the workshop.
For more information about this event, visit the online website www.litfuse .us/litfuse_2009.html.
More information about the various events scheduled in Tieton can be found online at www.mightytieton.com.