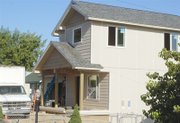 A spate of home improvement projects accounted for most of the 28 new projects permitted in Sunnyside during the month of July.
There were six re-roofing projects, for example, with a combined valuation of $23,400, netting $607 in permit fees to the city of Sunnyside.
The largest of the re-roofing efforts was at 600 North Avenue, where an existing roof was covered with a metal roof. That project is valued at $7,500, netting $157.75 in permit fees.
Another large roofing project was permitted for Smith Funeral Home, 512 S. Eighth Street, which is valued at $7,000. The project, which re-roofs the crematorium, generated $143.75 in fees for the Sunnyside city coffers.
For the month of July, the total valuation of all new projects is $344,500, accounting for $5,048 in permit fees.
Nearly 90 percent of July's valuation was accounted for in two projects.
The biggest to get the thumbs up from city officials is a $210,000 home under construction at 104 E. Edison Ave. That project resulted in $2,660 in permit fees.
The other big ticket item getting the okay in July was a new 42x58 steel shop at 3940 Alexander Road. The commercial building has a valuation of $89,900. Sunnyside coffers received $1,355 in fees from the project.
Sunnyside building officials in July also gave the okay for a new foundation, three projects installing new windows, a project to install overhead doors and two projects to install decks.
Overall, city officials conducted 162 inspections during July, 105 of them related to buildings. There were also 24 plumbing inspections and 21 mechanical inspections for the month.