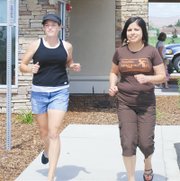 What began as an idea to help raise funding for further cancer research has turned into a wellness program at Swofford and Halma Clinic in Sunnyside.
Darla Westenberg and Delia Sandoval said a team of runners formed for the purpose of running in Leavenworth's half marathon this coming fall.
Westenberg asked a co-worker to join her in training for the event, suggesting the race would be a way in which to help fight cancer.
"Most of us at the clinic have been affected by cancer," said Westenberg, stating the group grew as the word spread regarding the efforts.
All marathon proceeds will go to the vascular biology lab at Children's Hospital in Boston, Mass. and will be used in the hospital's angiogenesis research program.
Angiogenesis is the growth of new blood vessels from pre-existing ones, and is believed to be how tumors begin.
The marathon kicks off Leavenworth's Oktoberfest celebrations and the race is a distance of 13.1 miles long.
The Wellness Team began training each morning this past May. There are now a total of 10 team members training for the event.
"Some of us have gone from couch potatoes to half marathon runners," said Sandoval, who has lost approximately 27 pounds since the team formed.
Westenberg said the group has tracked the miles covered since training started, and there have been numerous benefits from the training.
"Not only has Delia lost weight...," she stated. "But, I have been able to cut my diabetes medications in half," said Sandoval.
The group wants to take a stand against cancer and other diseases. They have decided to continue training daily after the marathon in a continuous effort to leading a healthy lifestyle, as well as to participate in other events like the Relay for Life.
"We have the benefit of Dr. Halma, who is a marathon runner," added Westenberg, stating Halma has provided the team inspiration and advice throughout the training.
The team is so inspired they want to take what they have learned and help others experience similar results.
"We see so many children who are overweight," said Sandoval, stating a wellness program is being developed to help youngsters in the community lead healthier lifestyles.
"We will track miles and prizes will be awarded as they reach specified goals," said Westenberg.
"We want to focus on prevention, helping others stave off illness," Sandoval added.
She said much of today's medical attention is focused on helping patients become well after suffering an illness. The team at Swofford and Halma Clinic wants to prevent the illness.
"We have seen a difference in the office. People are happier," Sandoval went on.
Westenberg said exercise benefits both the physical and emotional well-being. The women on the Wellness Team have experienced more stamina, greater concentration, a feeling of being stronger and a sense of contentment.
"I can do so much more than I was able to do before," said Westenberg.
"You hear about the benefits of exercise, but, until you experience it, it is difficult to comprehend the reality of those benefits," added Sandoval.
Both women said those involved in the team also feel more energetic than they did prior to training for the October marathon.
"One thing...we would like to ask the community members to use caution when runners are on the roadway. We've had a few close calls with drivers on the narrow roads," Sandoval said.