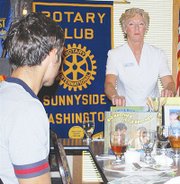 Statistics show approximately 30 percent of students entering kindergarten in the Yakima Valley are not ready for school.
That's according to Nancy Leahy of Circle of Success, who spoke at Monday's Sunnyside Noon Rotary Club meeting.
Her organization has been working to remedy that problem through its early literacy program. The organization uses Dolly Parton's Imagination Library to reach out to youngsters in the valley, providing books to children from birth to age 5.
Currently, the program serves 3,400 youngsters enrolled in the program. 3,000 of those children are residents of the valley and another 400 are in Kittitas County.
There are three services provided to children and their families through the program, said Leahy. Those programs include providing a resource guide for new parents.
The resource guide, said Leahy, is available in both English and Spanish. So is the monthly newsletter, which is mailed to the homes of those enrolled in the program.
Children are mailed a book each month. That book is provided at an age appropriate level.
"The first book a child receives is The Little Engine That Could, which is one of Dolly Parton's favorite books," said Leahy, sharing the children deem these books as something special.
Many of the children would not have books of their own if it were not for the Imagination Library and Circle of Success.
One child, Leahy said, received his first book and slept with it. She shared this to provide a foundation for her claim that the books are important to children.
What is most important, she went on, is that parents are provided tools for giving children literacy skills. The program emphasizes simple skills like expanding a child's vocabulary, teaching the child the alphabet and holding conversations with children.
The number of disadvantaged children in the Yakima Valley is twice that of the state average. Because of this the Circle of Success is focused on providing youngsters with the help needed to prepare for school.
Leahy said studies show 90 percent of all brain development takes place from birth to age 5 and that is the reason it is important to focus on providing them with early literacy skills.
Approximately 20 percent of the youngsters in Tennessee were better prepared for school, according to one study, as a result of their involvement in Imagination Library.
Another advantage of the program, according to Leahy, is that parents with difficulty getting to a library are provided the tools for helping their children. The books are provided each month and are the child's to keep.
The cost each year for the program is $60, much of which is covered through donations.
Leahy said there is no financial element for a child to qualify for the program, but additional funding is needed to serve the youngsters in the Yakima Valley.
There are approximately 450 children currently on the waiting list for the Imagination Library program provided through Circle of Success.
Leahy did note the residents of Sunnyside have been generous in donating to the program. She said donations were collected during a can drive and contributions exceeded those of other communities.
Individuals, service clubs and businesses are all welcome to donate to Circle of Success, said Leahy.