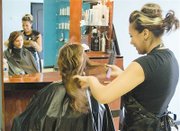 New Sunnyside business owner Rachel Villalobos has thought of opening her own business for quite some time now.
The 2004 Sunnyside High School graduate said it has been one of her dreams since she first started thinking of a career as a young student at the high school.
That time is now as Villalobos opened XCAPE Salon & Café in late July.
For those wondering if you read that correctly, rest assured you have. Villalobos is offering Sunnyside's first hair salon with a twist, a café. Why?
"We figured it would be more comfortable and relaxing while they wait," she said of offering food to her customers.
The salon has two full-time hairstylists and two part-time employees. A third part-time employee should begin work in just a few weeks. Two of the soon-to-be three part-time workers are instructors at a local beauty school.
Four stations are available at XCAPE.
They offer the usual services from a salon, Villalobos said. Customers can get haircuts, color dyes, perms and extensions. A waxing room is also slated for the salon located at 500 East Yakima Valley Highway in Sunnyside. Villalobos said the room is there and she is just waiting for the beds she ordered to arrive.
But the big attraction will be the café that Villalobos will offer. Patrons can forget about greasy eggs with bacon but can settle on something a little lighter. She said sandwiches and fruit salads will be a staple, as well as espresso and smoothie drinks.
Villalobos said her salon is also kid-friendly and features a room just for kids with plenty of toys to keep them busy.
Her hours of operations are Monday through Friday from 10 a.m. to 7 p.m. and Saturdays from 9 a.m. to 5 p.m. Walk-ins are encouraged but appointments will also be taken. Villalobos said appointments can be made for times before and after normal business hours.
The café is not open yet but Villalobos said it should be in about two weeks. She plans on hiring an additional two employees to take care of that side of the business.
The first three weeks of business have been slow, but promising.
"We have a pretty good clientele but we need to get the word out," she said. "We're hanging in there. We can't complain for just starting out. I would like to welcome everyone to come in and check us out.