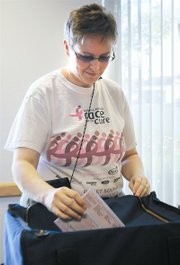 The voters have spoken and Mabton Mayor Velva Herrera will lose her office come the first of the year.
That's following yesterday's primary election initial results in which Herrera was in a four-way race to retain her seat, which she's held since 2005. Current Mabton Councilman Angel Reyna leads the way with 53.91 percent of the votes, while Herrera has garnered 15 votes thus far for 11.72 percent. Daniel S. Jun will advance to the general election against Reyna for the mayoral seat after capturing 25 percent of the votes. Vanessa Cervantes has been eliminated from the race after getting only 9.38 percent of the vote.
Meanwhile, in Sunnyside, Mike Farmer and Jesse Hernandez have advanced to the general election. Farmer and Hernandez were in a three-way race for a Sunnyside City Council seat with Thomas Warren, who so far has captured only 14.65 percent of the vote. Farmer leads the way with 57.32 percent and Hernandez thus far is at 27.60 percent.
Michelle Perry is leading the way in her bid for a Sunnyside School Board position vacated by Joanne Kilian. Perry so far has captured 47.70 percent of the vote, while opponent Robert Lemos will also advance with 32.18 percent. Darena M. AhQuin is out of the running after garnering 19.7 percent of the vote.
Javier Rodriguez and Larry Bolan are currently neck and neck in their bid for the Grandview City Council position vacated by Jan McDonald. The two, who will advance to the general election in the fall, captured 35.94 and 35.23 percent of the vote, respectively. Ed Wagner appears to be out of the running for McDonald's seat after capturing 28.11 percent of the vote.