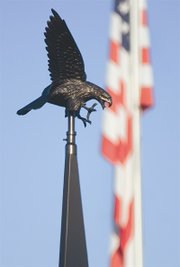 An outpouring of support from members of the community has led to the installation of a cast-iron eagle that can be seen atop the three-sided pyramid that graces Jerry Taylor Veterans Plaza in downtown Sunnyside.
The eagle was securely attached to the top of the eye-catching pyramid this past Sunday.
"This replaces the old flagpole that had been removed because of metal fatigue," said Greg Schlieve, one of the local military veterans who are working to refurbish the downtown memorial.
The eagle, portrayed in a soaring fashion as if it were hunting prey, is approximately two feet tall with a two-foot wing span. The sculpture weighs more than 40 pounds.
The community members who came together to make the installation of the eagle possible included Max Castillo of Washington Corrugators, who supplied the man-lift to get the job done. Schlieve said local veterans are also appreciative of the efforts of Monarch Machine & Tool in Pasco, which supplied the metal shaft needed to support the 40-lb. bird.
Also assisting with the beautification project were Lower Valley Machine Shop in Grandview and Sunnyside High School metal shop teacher Tom Dolan. The machine shop crew performed the work that was needed to fit the shaft to the eagle; and Dolan completed the fabrication work required to weld it all together.
Stepping forward to assist, as well, were NAPA Auto Parts of Sunnyside and the Yakima shop of Wesco Paint & Equipment Supply. The local auto parts shop provided all of the resins that were used to give the job a finished look. The Yakima paint store employees came up with the desired coating to give the cast-iron eagle a bronzed look.
Schlieve said the next phase of the refurbishment is to resurface the three-sided, cement pyramid on which the eagle rests, "...to hopefully match the granite walls that were installed last December."