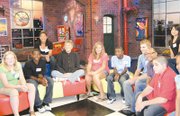 GRANDVIEW - It's a good thing Shariss Ramirez leaves a lasting first impression. One could argue it's the impetus behind her upcoming Sept. 6th appearance on Nickelodeon featuring 10 teens from across the United States and their take on the country's economy.
Ramirez, a Grandview eighth grader, had met a Northwest Community Action Center worker named Nicola Wiley when she was in the sixth grade. Her aunt, Jamie Prieto, also happens to work for Northwest Community Action Center and soon after Ramirez met Wiley, Prieto overheard Wiley talking about the youngster.
The two got to talking and that was that. Until a few months ago, when Wiley got an email from Nickelodeon soliciting articulate teens with good grades who've been impacted by the economy.
Ramirez came to mind for a few reasons, one of which was that her father, Juan Ramirez, had just been laid off for the first time ever.
The youngster submitted an essay application and five days later one of the show's producers called and talked to Mr. Ramirez. Then, another producer called and talked to the eighth grader.
Ramirez admits she was nervous, though she says her voice didn't shake and she didn't lose her breath. "I wanted to do my best, but then I'd get stuck," she said.
She then was asked to submit a photo and grade transcripts, and had to undergo another producer interview. "It got easier and easier," she said, in part because they were asking the same questions repeatedly. That, she said, put her at ease.
Soon, the GMS eighth grader got word that she and her father would be traveling to New York, Manhattan in particular. She also learned she was one of only two from the West Coast.
Coming from a small town, being met at the airport with drivers carrying signs bearing her name felt pretty good.
She and her father stayed at the Roger Williams Hotel in Manhattan and spent their days at the studio taping the segment with famed newswoman Linda Ellerbee.
"It was more nervous being there than (interviewing) over the phone," she said.
Of taping time, she said, "Us kids talked about how the economy has changed our lives, how we understand the economy and we got to relate to other kids' stories."
For her own personal story she talked about the impact she felt after her father was laid off from work. "We had to cut back on electronics, games, toys we wanted," she said. Even a family vacation to Cabo San Lucas was scrapped, but the now thrifty family took the deposits they made toward that trip and applied them to a three-day jaunt to Seaside, Ore.
Ramirez will appear on the Nickelodeon channel Sept. 6th at 8 p.m.