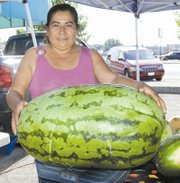 MABTON - Senora Ramona Lopez was expecting big watermelons, but little did she know she was about to harvest an 85-lb. humdinger.
Lopez and her family, husband Rafael and sons Rafael Jr. and Leonel, tend to 17 acres in Mabton, though they're Sunnyside residents.
The 85-lb. watermelon just made its debut at the farmers market in Sunnyside yesterday, Wednesday.
And there are no plans for eating it any time soon.
"I will cut it and save the seeds," said Senora Lopez.
But first, the watermelon will be displayed for a couple weeks at the various farmers markets the family frequents to sell their crops.
This disappoints Rafael Jr., who said, "I wanted to eat it this Saturday because it's my grandma's birthday, but..."
He said the family sells produce at various locations in the Yakima Valley and on the west side of the mountains, too, like North Bend, Federal Way, Kent and Auburn.
"All of us, we work together, the four of us," said Rafael Jr. "Me, my dad, my brother and my mom." They work hard all day, he said, unless it gets too hot. In that case, he said, the family takes a break from about noon to 5 p.m. After that, it's back to work tending to cantaloupe, peppers, zucchini, corn, tomatoes, cucumbers, tomatillos, onions, and, of course, watermelons.
When asked the secret of her large watermelons, Senora Lopez, who just became a U.S. citizen the day she harvested the watermelon, threw up her hands and giggled, admitting she did not know.
The watermelon will be on display for two more weeks at the Sunnyside Farmers Market.