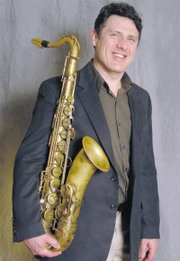 The new release by Ralph Bowen, a famed New York jazz scene saxophonist, is sure to delight jazz fans young and old and might possibly ignite a new following of this man's career.
Bowen makes no bones about whose name is on the album cover. From the first song, Canary Drums, his saxophone is loud and up front, something that makes the song jump.
He slows things down after that on Pat. There it's the subtle guitar work of band member Adam Rogers that leads the song until Bowen bursts back on the track near the three-minute mark that immediately picks up the tempo.
The six tracks on the disc are all Bowen originals and as the album's title, Dedicated, suggests, all of the efforts are dedicated to one of Bowen's mentors.
Besides Bowen and Rogers on tenor saxophone and guitar, respectively, other band mates include Sean Jones (trumpet), John Patitucci (bass) and Antonio Sanchez (drums).
Together they present a truly beautiful record. Bowen's horn is always nearby and seems to enter at just the right point in the song.
Bowen takes over on Mr. Bebop, a snazzy tune he wrote for mentor David Baker. Qaiyam is slow but the five-piece group picks it back up with Prof. By the time E.R. rolls around, you don't want the music to end.
Bowen has more than 70 song titles to his credit and has played with the likes of Horace Silver, Michel Camilo and Jim Beard. He made his mark on the New York jazz scene in the 1980s as co-leader of the Bluenote Records' sextet, OTB-Out of the Blue.
Bowen departed after making four albums with the group and has since taken his 'casual perfectionism' to clubs, concert halls and festivals worldwide.
With his latest effort, that trend will no doubt continue.