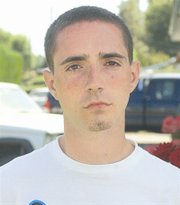 GRANDVIEW - Dustin Taylor got more than he bargained for when he signed up for the Army National Guard.
The Grandview resident not only ended up serving a year in Iraq, the experience also got him started in the career of a lifetime.
The 2006 Grandview High School graduate is the son of Craig and Malinda Taylor. He returned home from Iraq just two weeks ago.
Taylor started early in the National Guard, signing up while still in high school. He was sent to Iraq in August 2008 to serve in Baghdad.
While in Baghdad, Taylor served with a unit that provided security for U.S. ambassador to Iraq Robert Ford, as well as security for land surveyors working on contracts with the government.
Serving as what he called a "baby sitter," Taylor performed other duties such as taking supplies to schools. His unit was also responsible for helping secure the roadways for Secretary of State Hillary Clinton's visit to Iraq earlier this year.
"We shut down traffic so she could get through," Taylor said.
Near the end of Taylor's tour of duty in Iraq he was on hand for the transfer of security operations from U.S. to Iraqi forces.
"I was pretty happy to see the Iraqis could take over the check point and prove they could do the job," he says.
Taylor says the experience in Iraq taught him that "you really don't know how much your family means to you until you're gone."
The area where Taylor served didn't see direct attacks, but he was prepared as he trained to be a medic prior to being shipped to Iraq.
"I like helping people," he said of his choice of training.
In the event of an attack or casualties, Taylor said his responsibility would not only have been to provide medical care, but to also train others in the "art of being a combat life saver."
His training as a medic has prompted Taylor to use his new GI bill college funds to study biology at CBC starting this fall with an eye to eventually becoming an emergency room doctor.
"I played medic in the Army so I might as well go with what I'm good at," he smiled.
As for others considering a hitch with the National Guard, Taylor suggested following a path similar to the one he has taken.
"Know what job you want," he says. "Pick something outside of the military for (work) experience. Be versatile."