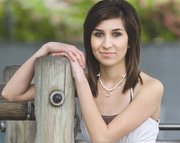 A whole new world awaits Diana Sanchez and she's ready to jump in feet first.
That's the mantra of the 16-year-old Sunnyside High School junior, who not only just got her driver's license but is also competing in the Miss Sunnyside Pageant next month.
And come this fall, she's ready to join cross country, tennis and Pep Club, and possibly even the Latino Culture Club.
"It's a lot of freedom and it feels good," she says of the ability to transport herself from one activity to the next.
Sanchez is the daughter of Isabel Medina and Miguel Sanchez, and little sister to Miguel, 29, Lorena, 28, Sergio, 25, and Candy, 22. "I'm the baby," she says.
For many years, that meant calling one sibling or the other for a ride. "It's so much easier now. I don't have to call my friends, my brother and older sister."
The young adventurist will take to the stage with a dance during the talent portion of the pageant. "I'm doing a dance routine to a mix of songs.
"I chose it because I haven't really danced and I wanted to do something different," she says.
She notes her cousin has been an inspiration in preparing for the pageant. Her cousin served as Miss Mabton in 2006. "She told me it's going to be a lot of work, but to 'keep your head up and do the best you can'."
Sanchez had a little bit of difficulty in picking out her community service project. Someone else had already selected working with the community's elders, so Sanchez found herself momentarily stuck. It was then that pageant director Teri Alvarez-Ziegler suggested promoting the Sunnyside Museum.
"She gave me that idea, creating attraction to it.
"I want to have activities, have tours, I want to have elementary school kids come, maybe with their families.
"It holds a large history of our city and I don't feel it gets recognized as it should," she says.
Above all else, Sanchez is a serious student.
"I really do take school seriously," she says. "I feel if I don't do good, it's just horrible."
That's due in part to advice from her father: "You need to do really good if you want to get so far." That's advice she'd pass on to little kids in the school district should she be selected to serve as Miss Sunnyside. That and, "It'll all pay off in the end."
Working hard at school is no problem, though. "I like school, I really enjoy it."
She says her favorite classes at SHS are drama and math, math because "I'm not very good at it."
She enjoys challenges, though, and learning new things, she says. Passing the WASL her sophomore year was one big hurdle. "I was actually pretty surprised. I was pretty nervous. I was scared and then at the end (of the test) just relieved it was over."
Sanchez says the best part about living in the Sunnyside community is that everyone knows everyone else.
"I like the way (the community) comes together to try and help one another, like Sunnyside's Promise and another program that works to better Sunnyside."
Her sponsors for the pageant include Sunnyside's Napa Auto Parts, ReMax Real Estate and the Sanchez-Alvarez family.