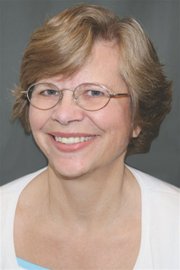 Carol Stickney's no stranger to diverting plans in accordance with God's will. That's why it was no surprise when the former missionary to Thailand heeded God's call to lead the Sunnyside Free Methodist Church.
"I thought I was just coming home to raise money for support," she says of what was supposed to be her short trip home.
Stickney became a missionary in 1994. And as she set out to Haiti in July 1994, a political situation arose that created a situation where she couldn't yet go. So she headed to Florida, where she worked in the Free Methodist Church with Haitians. Finally, she served in Haiti from January 1995 to May 1998. She then headed off to Los Angeles where she learned how to do cross-cultural church planting. There, she first began teaching ESL classes.
The year 2001 brought her to Pasco and by the winter of 2004, she started working in Sunnyside as part of the third-track to becoming an associate pastor. She worked with both the Hispanic and the Anglo congregations.
Two years ago she left for mission work in Thailand. But on her trip home she learned the Sunnyside Free Methodist Church was losing a beloved bilingual pastor.
"It was really heartbreaking," she said. "We ended up pretty much (losing) all of our Hispanic congregation but one family."
Today, she's at the helm of a congregation of only 12 families, but the minister, who has an evangelical background, remains undaunted.
"I feel God can build the church and I can be his hands and feet," she said. "Better than me have tried to build a church."
But, she added, "I love Jesus and I want to share that love with others. I want people to feel that love in such real ways. There is hope. There is hope in him (God)."
It's actually mainly missionary supporters who are financially supporting her now, especially from her previous home church in Chewelah.
She said for as small as the Sunnyside Free Methodist Church is, the congregation believes firmly that they're there for a purpose. "We're praying to find out what that purpose is."