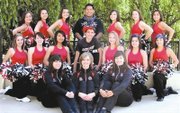 The Sunnyside High School Grizzliettes were able to participate in an Elite Performance Camp earlier this summer, where the dancers learned several new routines and met the famous choreographer Shane Sparks.
Sparks was the choreographer for the movie You Got Served and has judged the national dance contests So You Think You Can Dance and America's Best Dance Crew.
Sparks talked about his life and the struggles he had to go through to make it as a professional dancer.
"It was awesome," said Grizzliette Coach Melodie Griffin. "It was an amazing thing for me and for my dancers to experience."
The Sparks experience was just part of the camp. Griffin said all of her captains and some returning team members attended a leadership camp the day before the Elite Performance Camp began.
Over the four-day camp the Grizzliettes were awarded the Most Admired Team and Most Admired Leadership honors. Captains Kelley Bridges and Jazmine Salmeron were named to the Top 30 Dancers group, which was picked by camp staff. They each received a medallion for their efforts.
Captain Crystal Rivera and Jorge Arciga both received honors for their individual dance routines.
The Grizzliettes have worked all summer to continue where they left off last season with their focus on State 2010, Griffin said.
The Grizzliettes will host their annual Lil' Grizzliette Camp Sept. 14-18. The camp is for both girls and boys ages pre-kindergarten to 8th grade.
Those interested can contact Griffin at 836-8715 or contact the Sunnyside High School ASB office for registration forms.