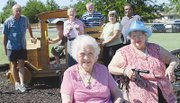 Children visiting the elders at Sunnyside's Hillcrest Manor now have a toy on which they can play.
The family of the late Mildred Guy wanted to honor her and her health care worker, Ruth Barry. They commissioned Ish Puente, a man who enjoys doing carpentry work for the manor, to build the play equipment.
He said a drawing of the truck was presented to him, as were the plans for it.
"Mary (Arthur) wanted the truck duplicated," said Puente, stating the manor's administrator was already familiar with his craftsmanship.
Although the truck was labor intensive to build, Puente said he enjoys building things.
"I have a firm belief that, if you are going to do something, you need to do the best you can," he said.
Puente enjoys helping those at Hillcrest Manor, as well. He said he has a great appreciation for the staff there.
"It takes special people to care for the elders and others who are at facilities like the manor," he stated.
Over the years, Puente has built a strong relationship with the staff at Hillcrest Manor. He said his first job involved a door that was not working properly.
"Ms. Arthur had called me after asking a number of other individuals to work on it," he recalled, stating those other calls had been fruitless.
When he arrived, Puente was surprised to find a new door awaiting his expertise. He had ventured to the manor to assess the problematic door, and return at a later date.
But, the new door was ready to be installed, saving him the extra effort and Puente said he installed it on that first trip.
Since then he has become someone on whom the manor and its staff can depend.
"I like meeting the needs of the staff and residents here...when there is a need, I make time to meet that need," Puente said.
He is proud of the end result of his latest efforts.
Arthur is, as well.
"Now the children have a place to play...they really enjoy it," she said.
Arthur, during the dedication of the new addition, said, "The Eden philosophy is to bring life into the lives of our elders. Part of that life is the laughter and the antics of children, grandchildren and great-grandchildren."
She believes the truck, which was placed in Hillcrest Manor's Memory Lane Park, will help bring the children's laughter to those living at the manor.
Guy's family and Sunnyside Daybreak Rotary Club contributed to the expense of the latest installation, as did Dr. Matteo Brozzetti.
For their generosity, Arthur said the lives of the elders will be greatly enriched.