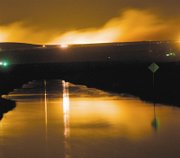 Wildfires sparked by lightning late Thursday night between Sunnyside and the Columbia River has managed to burn roughly 49,000 acres and forced road closures last Friday on SR 241 and SR 24.
According to Washington Incident Management's Kathy Matsen, originally two fires merged together and there may have been up to four individual fires altogether. The fire has been named the Dry Creek Complex.
Matsen said her agency took over command of the fire at 6 p.m. on Saturday to free up local agencies, though she did not say which local agencies were involved. According to the agency's website, 112 people were involved in the firefight.
The fire continues to burn and, according to the latest web update, is 80 percent contained. Firefighters are working on strengthening the fire's perimeter lines.
Last Friday, WSDOT closed SR 241 from milepost 8 to milepost 24 on Factory Road in Sunnyside to the SR 24 junction.
Saturday night, WSDOT reopened SR 24 from milepost 14 to milepost 38 near the Hanford Gate. A power outage at the Vernita rest area forced the closure of that facility Saturday, too.
WSDOT cleared the remaining area for travel early Sunday evening.
Matsen said the strike points have not been determined.
According to her agency website, the fire is expected to be totally contained by tomorrow, Tuesday.
Matsen's agency is tasked with containing the fire so that it doesn't spread to Benton City, Prosser and Sunnyside.
In the meantime, the fire claimed two buildings: the Silver Dollar Café and one manufactured home at the intersection of SR 241 and Highway 24.