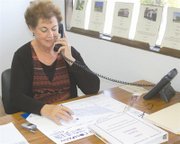 GRANDVIEW - Carol Winters is turning over a new leaf these days as two months ago she became a new realtor with Wine Country Real Estate in Grandview.
Winters had previously been in the eldercare business for 17 years. That's when fate stepped in and led her to a career change. Winters explained that she had an accident which required a change in occupations.
Holly Castle of Wine Country helped Winters in buying a new home and that business exchange led to discussions about helping Winters get into the real estate business.
"I had to get the old brain educated," Winters smiled of the training needed to become a realtor.
Winters said her training was extensive, including 60 clock hours of studying real estate and state regulations. She says she studied all winter before passing a real estate test earlier this year.
Winters says she is focusing on residential real estate, helping prospective buyers find the right home that meets their qualifications.
Qualifications not only means how much home the buyer can afford, but on meeting quality of life needs, such as what schools and neighborhoods a buyer might prefer.
She also is helping out behind the scenes at Wine Country Real Estate, taking pictures of homes as they are listed and assisting with the rentals that the real estate office handles.
Winters said she enjoys showing homes to buyers and seeing the way homeowners decorate their houses.
"I'm seeing some unique ideas," she said.
Another enjoyable part of the real estate business, Winters says, is meeting new people.
Ultimately the best part of the job, she says, is seeing the final result.
"I like to see the buyers satisfied with the purchase," Winters said.