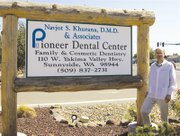 Dentist Kyle Sullivan has joined the staff at Pioneer Dental Center in Sunnyside.
Sullivan, who recently moved to the area with his family, hails from Utah. He said he began looking on the internet for job possibilities when he and his wife decided the city they lived in was simply getting too big.
"It just grew," he said. "It really developed a lot in the five years we were there."
Of the Lower Valley, he said, "This is more rural. Less city stuff."
He said it's also less expensive to invest in land here. "My daughter wants animals," he explained.
Sullivan began working at Pioneer Dental Center in early June.
He said he enjoys doing a broad range of dental work, not just specializing in one certain area, like teeth extractions.
"Part of the benefits of coming here is there is not as many specialists and they're not as close," he said.
In terms of his profession, he said he'd rather be a "jack of all trades."
Said Sullivan, "There are times when I prefer, if the difficulty factor is really high or if it's an abnormal case or something abnormal about the procedure, then I like to send the patient to a specialist for that. But if it's in an acceptable range, I can do it."
Sullivan graduated from Southern Illinois University's School of Dental Medicine in 2003.
He and his family, wife Suzanne and children Luci, 7, Jakob, 2, and Lexi, 3 months, recently settled into their home in Sunnyside.
"We've enjoyed being here thus far and have enjoyed the people we've met."
Simply put, says Sullivan, "We like it here."