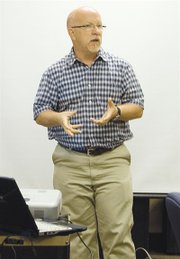 Many Daybreak Rotarians were a little startled to learn that in this past year's Point in Time homeless count, Sunnyside had a higher population of homeless people than downtown Yakima.
That's according to Dave Hanson with the Sunrise Outreach Center of Yakima, the featured guest speaker at the Wednesday morning meeting.
Hanson said that Sunrise Outreach began as a church effort a couple years ago.
"By the end of that first year, it had truly become a community effort," Hanson said, one in which different faiths had set aside their differences to work together. "There really hadn't been a precedence for that before."
But by the second year, one thing became obvious. "As a church, we couldn't manage it anymore."
That's when it officially became a non-profit organization with a board of directors.
Today, the Sunrise Outreach Center of Yakima provides extreme winter housing for the homeless, has a pantry and clothing bank that delivers 700 meals weekly, many to shut-ins, participates in an urban outreach program with kids in gangs and maintains a 72,000 square-foot storage facility that stores household items so that when people are ready to transition from living on the streets to living in an apartment, it will be fully furnished.
Of homelessness, he said, "One of the biggest problems with it is they become dehumanized. They feel they don't matter anymore."
He said with the involvement of volunteers in his program, there's more of a level of accountability with homeless people they regularly interact with. "We're starting to see the tide change in a very dramatic and real way."
Last year, Sunrise Outreach's shelters provided service to 5,680 people and more than 25,000 volunteer hours were logged.
With the help of Yakima eateries, three meals are provided at each shelter.
"Our mission early on was to mobilize the community," Hanson said. "I think we can say we did that."
Now, he'd like to see something similar here. He noted that Yakima counted 418 homeless individuals in the latest survey, while Sunnyside counted 498.
"There is a next step," he told Rotarians. "If this is something you want in your community, I will commit to helping you organize it."
But, he added, it can't be done without Sunnysiders championing the cause.