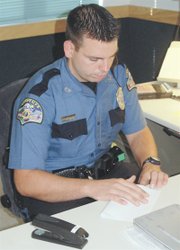 Down two or three police officers from previous staffing levels, the city of Sunnyside would figure to see a major uptick in crime this year.
Figure again.
Serious crimes in Sunnyside - ranging from murder to motor vehicle theft - are down 23 percent for the first six months of 2009 compared to the same time last year.
The total number of calls for Sunnyside police officers have also dropped compared to last year, down nearly 8 percent from 7,377 during the first six months of 2008 to 6,809 for that same period this year.
Sunnyside Deputy Police Chief Phil Schenck says some of the decrease, particularly in serious crimes, can be attributed to a grant program targeted at preventing motor vehicle theft.
The anti-theft program has resulted in a nearly 50 percent drop in motor vehicle theft during the first half of the year, from 154 as of June 2008 to 88 as of June 2009.
And there are other success stories, too. Larceny, theft, is down from 361 cases through the first half of 2008 to 267 in 2009, a 26 percent drop.
There have also been eight fewer burglaries compared to last year (126 to 118).
Schenck notes, though, that there have been some crime decreases that are due to having fewer officers on the street. Police officers initiated 28 charges of marijuana possession through June 2008, compared to 17 for 2009.
The decline is even more noticeable for charges initiated for possession of drug paraphernalia, down by more than half from 39 through the first half of 2008 to 19 this year.
Fewer police officers have also meant fewer stops for driving under the influence (27 for the first half of 2009 compared to 44 during the same time last year) and driving without insurance (229 in 2009 compared to 291 last year).
Sunnyside had 26 police officers on staff as of 2007. Two officers were cut from the payroll at the end of last year in a budget move. That, combined with retirements and one officer deployed to Iraq, left Sunnyside with 22 officers at one point this year.
The number is now up to 23 as the department gears back up to the 24 officers it was budgeted to have for 2009.
Police Chief Ed Radder says the lack of manpower means shifts are not fully staffed at previous levels of four officers per rotation. As a result, officers have less time to spend on each case.
That's the reason the city's ordinance on towing away vehicles belonging to uninsured motorists has generally not been followed, Radder says, as officers have to weigh the time factor of waiting for a tow and then processing the violation.
With fewer feet on the street, Radder says Sunnyside officers are more reactive than proactive these days, responding to crime scenes instead of being out in the public eye to discourage crime.
Behind the good news about lower crime numbers, especially for serious crimes, is a less positive picture - a decline in arrest rates.
For example, 36 percent of larceny cases were resolved through the first half of 2008. The number in 2009 is 33 percent.
Likewise, 10 percent of burglaries were resolved through June 2008, while the rate is now just 6 percent for clearing burglary cases. Two of the five robberies in the first half of 2008 were resolved, while none of the three arrests through June of 2009 have been cleared.
Schenck says that's because crimes like burglaries are investigated by police officers instead of detectives. He added that the response time to arrive at a burglary scene may also be a bit longer depending on what the short-staffed shifts are up against at the time.
There have been a few crime areas with an increase in the number of cases resolved - such as assaults with 74 percent cleared this year compared to 72 percent last year, but it's a minimal amount.
Overall, Sunnyside police have resolved - made arrests - in 31 percent of the serious crimes committed through June 2009, a virtual wash compared to the 30 percent rate from the year before.
"I would hope when there is a decrease in calls there would be an increase in clearance rates," Schenck said. The fact that rates are even or worse compared to 2008 is "disappointing," he says.
Sunnyside police have some good news, in that a federal grant approved this past Monday night by the city council will pay for the city to hire a 24th police officer.
The good news regarding the reduction in serious crimes, said Schenck, has been influenced to some extent by community-wide efforts like the gang reduction task force, Transformation Sunnyside and the Loving Sunnyside Initiative.
Schenck says there's no way to measure the impact those groups have on Sunnyside's crime rate, but he praised their positive influence.
"They're doing some really good stuff," Schenk said. "We have a community of people that care and that is going to make the situation better."
Sunnyside's violent crime rate is now below the county and state averages. Schenck says he has also seen a reduction in the crimes gang members are committing. A shooting homicide earlier this summer, he said, was not met with retaliation as has been the case with previous gang shootings.
Crime rates may be dipping, but public opinion takes time to change, says Schenck.
"A lot of it comes down to perceptions," he said. "If people perceive they live in a bad community it can become a self-fulfilling prophecy."
Schenck added, "We have one of the safer communities in our area."