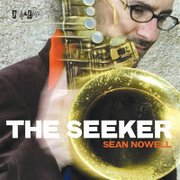 Sean Nowell is amazing.
That's my deduction after reviewing his latest CD, "The Seeker."
Nowell, who hails from Alabama, is a tenor saxophonist and I'm hooked at his amazing skill just after the first track, "New York Vibe." It's attention getting, to say the least.
I've never heard anything like this, but then, I rarely choose jazz as my first choice in terms of music.
Nowell and his sax might hold the key to changing that.
On this CD, Nowell is credited with playing the saxophone, clarinet and flute. Art Hirahara's featured on piano, while Thomas Kneeland chips in on bass. Joe Abbatantuono is featured on drums and Dave Eggar plays cello. Nir Felder is the guitarist on "The Seeker."
Track five is my favorite, "Jaime's Decision." As I sat and listened, I wondered what Jaime did, though it doesn't particularly seem like he was saddened by her choice when he composed the song.
Art Hirahara's magic over the keyboard stands out in track eight with "I Remember You." Nowell backs off though in the middle, and you get the clear, crisp melodious magic of Hirahara's fingertips.
For those who love the horn, this is a worthy CD to add to your collection.
For those of you who, like me, have little jazz experience, Nowell's "The Seeker" is an excellent place to start.
&nbsp
More like this story