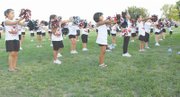 More than 95 smiling, cheering faces will don the sidelines during the Sunnyside Grid Kid football games this year.
These faces don't belong to the football players, but to the cheerleaders, rooting for those on the gridiron.
The young girls have been practicing twice a week since the middle of June, according to organizer and Coach Brezzi Campos.
"I went to the jamboree last year and saw we didn't have any cheerleaders," she said of her reasons for organizing the program.
Campos quickly moved into action in 2008 and organized a group of more than 40 girls willing to cheer for the Sunnyside Grid Kid football teams.
This year, the number has more than doubled in size, averaging 15 girls for each of the six cheerleading squads.
Not having been a cheerleader herself, Campos also gained the support of the Sunnyside High School cheerleaders.
"I was a dancer," she explained, stating she learned cheer skills for the first time in an effort to be an effective coach.
The 2009 cheerleaders have already exhibited their skills by participating in the Yakima Valley Fair and Rodeo's annual parade in Grandview.
Campos said the group will participate in Prosser's States Day Parade and the Sunshine Days Parade in Sunnyside next month.
"We've also been asked to perform at Sunshine Days," Campos added.
All this has been made possible through parent involvement.
"It would be too difficult for me to be two places at once," Campos explained, stating some football games are staged at the same time.
Each cheerleading squad has two "Squad Moms." She said those mothers are identified by their matching uniforms.
The mothers have learned many of the 15 cheers to prompt the youngsters as they root for the football teams. They also raise all funding for the program.
"It is not a program that would exist except for independent funding," said Campos.
She is also proud of the fact that Sunnyside is the only Lower Valley Grid Kid program in its league with its own cheerleading program.
"It's a lot of work, but we don't have Parks and Recreation programs anymore...this is all some of these girls have," said Campos.