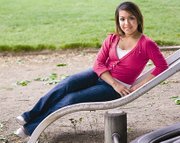 Delia Serna embodies self-confidence and determination, but it wasn't always that way for the Miss Sunnyside candidate.
Serna readily admits she's vying for the title to send a very clear message. "There are girls out there that think they won't make it (on the court) if they're not a certain height or don't look a certain way," she says. "I want to show people to just go out there and try it. Always try something new because it may open new doors for you."
Perhaps most importantly, Serna's a firm believer in the mantra, "Be yourself."
While she comes across as confident, Serna insists that hasn't always been the case. With the guidance of her mother, Baldomera Valenzuela, she says she's becoming a better, more confident person.
"I never really had much confidence in myself," Serna says. "She sees past that."
In middle school, she says, "I was so insecure about myself." That's when her mother had a heart to heart with her, listing off the things that make Serna unique, like the fact that she enjoys talking to people, whether they're strangers or not.
Of her mother, Serna says, "She's willing to give me her help when I need it, now that I've learned to ask for it."
Serna's hoping that the growing self confidence within her will develop even further just by participating in the Miss Sunnyside Pageant.
"I think I'll grow from it, whether I get the title or not," she says.
It comes as no surprise that Valenzuela helped Serna decide what talent to perform at the pageant.
"I had a really close friend that died," she explains. "The song 'When You Say Nothing at All' (by Allison Kraus) reminded me of him."
At first, Serna was reluctant to open up such a painful memory. But, she says, "My mom (told me) to just stick with it, it'll give me a new memory."
Creating new memories is something Serna wants to do for the elders of Hillcrest Manor should she be selected to serve as Miss Sunnyside.
"If I do get crowned, I want to add more activities to their normal routine," Serna says of Sunnyside elders. "I want to bring more to (their lives), help them express themselves.
"With somebody just going there, talking to them, it will make them know people care."
Outgoing by nature, Serna is a Sunnyside High School cheerleader and a member of the Latino Culture Club. Of the club, she says, "Really, it's a lot of different activities that relate to a lot of different cultures. It gets a lot of the student body involved. It's not what people would expect." She adds that the club brings Anglos and Hispanics together to learn leadership skills.
Serna hails from a large family. She's the daughter of Javier Serna and sister to Ana, 28, Patty, 24, Rocio, 23, and Javier, 13. After high school, she wants to follow in the footsteps of a cousin and serve the country. He recently returned from the war in Iraq. Her desired branch of service? The Air Force.
"My cousin inspires me. I want to be that person, too. Not many people actually want to (serve their country). I've always had an interest in it," Serna says.
Serna's sponsors for the pageant include El Conquistador, Studio 242 and Hiway Fruit.