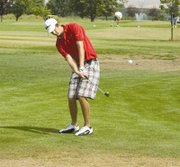 A total of 28 golfers entered the 53rd annual Banana Belt Golf Tournament held this past weekend at Black Rock Creek Golf Course.
The tourney had a purse of more than $2,500 in credits that could be used for purchases at the golf course's pro shop.
Claiming the top prize in the gross score competition was Justin Bos with a two-round tally of 144 on the par-72 Black Rock Creek course. Bos and David Stokes were tied with a one-over 73 after the first round of competition. Bos clinched the top $410 credit prize by carding a one-under 71 on his second round.
Earning second place honors in the gross score competition was Troy Wilmoth with rounds of 75 and 73 to finish at 148 and earn $320 in credit.
Rounding out the gross competition's top five were David Stokes (73-76, 149, $240), Andrew Schutt (79-74, 153, $160) and Juan Guerrero (77-79, 156, $130).
It was Tony Hidalgo claiming top honors in the net score competition, based on a golfer's gross score minus his handicap.
Hidalgo posted net scores of 72 and 62 to finish with a two-day score of 134 for the $410 credit first prize.
Three strokes back was Erik Holden, who claimed the second prize of $320 in credits with a two-round total of 137 (67-70).
The first-round leader, Mark Drollinger, ended up in third place with a two-round net of 141, carding a 66 in the first round before recording a 75 in the second round. Drollinger earned a credit of $240 for his effort.
Rounding out the top five in net score competition were Troy Monholland (72-71, 143, $160), as well as Rick Mitoff (70-74) and Alan Sandlin (75-69) who tied for fifth at 144 to split the prize of $130 in credit.