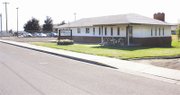 Following an executive session last Thursday night, Sunnyside School Board directors authorized the purchase of a house and .84 acres of property adjacent to Pioneer Elementary School.
Sunnyside School District Finance Officer Angela Watts told officials in a memo the property, owned by Vern Anderson, has been on the market for more than a year with an asking price of $255,000. The assessed value is $127,000. She said Anderson offered to sell it to the school district for $130,000 plus closing costs and the district counter-offered with a purchase price of $105,000.
Watts said in the memo the district could use the property to house district programs and/or for future driveway and parking expansion.
She said the district has funds available to purchase the house and property in its capital projects fund. "The (fund) has budget capacity in the current fiscal year," Watts said.
The property borders the northwest corner of Pioneer Elementary School.
School board officials approved the 2009-10 budget during the same meeting; $51.1 million is budgeted for capital projects.