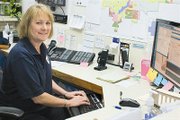 GRANDVIEW - Ever since she left the military, Julie Hellyer has wanted to transition to law enforcement and now she can. Hellyer recently began working police dispatch at the Grandview Police Department.
"I wanted to work for Grandview PD and the position came open," she said. "My husband and I have many friends here."
One of the aspects she's finding challenging at her new post is learning the Spillman system that logs police calls.
Hellyer returned to the Yakima Valley in 1995 after more than seven years of military service and she and her husband have a son currently serving in the Air Force.
On her off time away from her new job, Hellyer enjoys spending time in the mountains.
"I enjoy fishing, camping, anything in the mountains," she said. "But my number one love is horses."
Hellyer used to show horses before developing a passion for rodeos. But an injury has sidelined her from enjoying that sport for the past couple of years.
Hellyer began working at the police department on Nov. 13.