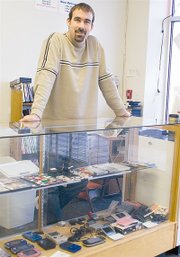 When Ben Macy and Shawn VanWinkle were little boys, they scrimped and saved to buy a Nintendo game system. They swapped it back and forth every Sunday at church. Today, that childhood friendship has blossomed into a joint business venture with the opening of Flicks & Games in Sunnyside.
The store, located on Yakima Valley Highway in the old K-Mart building, features video and game rentals, video game system rentals, and video games for all different kinds of systems for sale.
"We're carrying both movies for rent and video games for all different types of systems for sale," said Macy. "We carry a lot of the old school video games, as well."
The older systems sell like hotcakes. "We've already sold one Super Nintendo and an original Sega Genesis," Macy said, adding that with the popularity of the older gaming systems, the Super Nintendo he's got on the shelf right now just may not last too much longer.
Macy said it's fun to carry the older gaming systems and games because they're what he grew up with. "I have been a huge video game nerd for a while."
He also enjoys buying and trading the various items. "We either do cash for some or they'll get more if they do store credit for trade," he said.
VanWinkle owns Show to Go in Prosser and has for a number of years.
Of opening the store in Sunnyside, Macy said, "Since Blockbuster moved out, there's not a lot of options (here). Shawn already owned one store and had a lot of back-stock."
Also featured at Flicks & Games for sale are handheld gaming systems, like Nintendo DS, Gameboy, Sony PSP and Gameboy Advance. And, of course, Flicks & Games also has games for the various types of systems.
In addition, the store features Wii, X-Box 360 and Play Station games to rent.
Individuals wishing to rent movies must be age 18 and older. To rent games and gaming systems, one must be 18 or older and have a current debit or credit card.
The store is open Mondays through Thursdays from 10 a.m. to 9 p.m. and on Fridays and Saturdays from 10 a.m. to 10 p.m. On Sundays, the store is open from noon to 8 p.m.
Macy encourages people to bring in their older games. "We love trade-ins and stuff on our video games and getting (people) into some of the more recent video games."
Macy said, "Anytime you can make money doing something you love, that's always good."