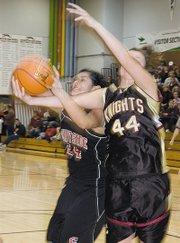 GRANDVIEW - The Sunnyside High School girls basketball team opened the 2009-10 high school season with two losses last night in Grandview at the opening jamboree.
The Lady Grizzlies began play against the Sunnyside Christian Knights, losing 38-20. The B squads of each team played the first two quarters and then the A squads faced off for the final two.
Sunnyside fought the Lady Knights to a 10-10 tie in the first half.
"They did some good things," Sunnyside Coach Eric Berg said of his younger players. "They played real aggressive defense and hit a couple of outside shots to keep the game tight up to that point."
When the Grizzlies' A squad took the court Berg was pleased with their performance. He said offensively his team did what they wanted and got the shots they practiced for. Unfortunately, the shots did not fall.
"Sunnyside Christian is a really good team," Berg said. "They have a great coach and they are always prepared. I was impressed with them."
The Knights outscored Sunnyside 14-3 in the third period and 14-7 in the fourth.
Melissa Amaro led the Lady Grizzlies with six points. She was followed by Sarasa Partida with four points. Destiny Maya finished the first game with three points and Michelle Galvan added two points. Teammates Hannah Marro, Daisy Rodriguez and Kaylynn Jongsma added one point each.
Sunnyside shot 5-for-12 from the free throw line. The Knights were 3-for-12.
In the second game of the evening Sunnyside played host Grandview, falling 24-16.
Again the Grizzly B squad played tough, battling the Lady Greyhounds to a 4-4 halftime tie.
"Their defense is solid," Berg said of the Sunnyside B team. "They will find success from the defense this season."
Berg said he again was very pleased with his A team's effort on offense, but said again his team couldn't find the bucket.
"We took the shots we wanted to, but they didn't fall," he said. "It was kind of surprising, we've been hitting these shots in practice."
Berg said nerves had something to do with it, noting his team's shots were long most of the time.
The Lady 'Hounds outscored the Grizzlies 12 to 6 in the third period and 8 to 6 in the fourth.
Maya, Partida and Ruby Herrera led the Grizzlies with four points. Teammates Galvan and Sammie Reyes each added two points.
Berg said the jamboree showed his team needs to improve on defense.
"We must do better with our free throws, too," he said. "With our aggressive style of defense we will go to the line this season. It does no good if we can't make our free throws."
Sunnyside will host the Kamiakin Braves on Friday, Dec. 4, at 7:30 p.m.