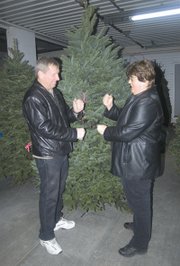 With Christmas just 23 days away Sunnyside residents are busy getting their Christmas shopping finished. But, perhaps the most important item on any Christmas list is the actual Christmas tree itself.
There are several places in town where a tree can be bought but the decision must always be made. What kind of tree will we get?
Besides an artificial tree, there are three main types of tress one will see at tree lots in town.
Probably the best is the Noble Fir, a deep green tree that has strong, sturdy branches but soft needles. The Noble's branches have good spacing so it's easy to hang ornaments on them.
The Grand Fir is probably the second most sought after tree in Sunnyside. This tree has a glossy dark green color with a soft touch.
The third tree widely available in Sunnyside is the Douglas Fir. This tree holds the classic Christmas tree shape and has soft, shiny needles. The trees are usually sheared to get this shape, which can sometimes make it difficult to find the space needed to hang ornaments. It is recommended that only a freshly cut Douglas Fir tree be chosen and to keep it well-watered.
According to Delores Hutchinson, who sells trees from her Hutchinson Produce business, all Christmas trees must have a fresh cut on them when they are put into the Christmas tree stand. If the cut isn't made, they will die, she said. It is also important to keep all trees well-watered.
Hutchinson only stocks Nobles and Grand Firs at the business located at 1104 Yakima Valley Highway. Her trees are large, between five feet and 10 feet and she has a large selection of trees priced from $12 to $24.95.
There is also a large selection of premium trees available at Hutchinson's Produce. The price of these trees rises with the quality.
She is open from 9 a.m. to 7 or 8 p.m.
Another tree stand operated at 1103 Yakima Valley Highway is run by Gabino's Nursery. The trees are smaller than those at Hutchinson's Produce but include Nobles, Grand Firs and Douglas Firs. The price range for these trees is between $10 and $30.
This tree stand opens at 10 a.m. and close at 8 p.m.
Also on Yakima Valley Highway, located east of China Wok near Sixth Street, is a tree stand ran by the Cornerstone Church. The stand is open from 9 a.m. to 8 p.m. and offers Nobles, Grand Firs and Douglas Firs. The price for these trees ranges from $15 to $40.
Another stand on Yakima Valley Highway is father east, near Stover Road. The stand is ran by Rantcos International, Inc. and offers the usual Nobles, Grand Firs and Douglas Firs.
The prices for these trees vary from $21.99 up to $69.99.
Some people aren't impressed with the smell of Christmas trees and are even less impressed with the needles and mess a tree can make. For those people there are artificial trees.
Two well-known places in town that stock these trees are Bi-Mart and Walmart.
Walmart has a wide selection of artificial trees, from plain trees to fancy trees that are already decorated with lights and ornaments. Walmart has several trees prices between $20 and $68 but also has trees as high as $198.
At Bi-Mart the trees are priced according to height. A four-foot tree goes for about $19.97. A six-foot tree costs about $29.97 and a six and a half foot tree can run $44.97.
Bi-Mart also has pre-decorated trees. Two four-foot trees will run about $29.99. There is also a fiber-optic tree that stands 32 inches and lights up at the ends. The box comes with three trees and costs about $27.