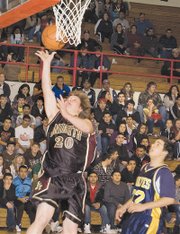 Despite absorbing a pair of losses to 2A Wapato and 3A Sunnyside, the 1B Sunnyside Christian Knights held their own at last night's season opening jamboree, hosted by the Grizzlies.
Tuesday evening's jamboree games consisted of two, 10-minute halves. The first half of each game was played by the JV squads, with the varsity players taking the court after intermission.
Sunnyside Christian opened against Wapato. The JV Knights fell behind 22-16, but when Christian's varsity took the floor, the 'A' squad rallied from behind to forge a two-point lead on the Wolfpack.
At that point, Wapato employed a full-court press. Shortly thereafter, Sunnyside Christian's big man, 6'6" Steven Broersma, fouled out with the score tied.
"When he left the game, we didn't have anyone to lob the ball to over their press," said SCHS Coach Dean Wagenaar.
Wapato continued pressing the Knights, but wasn't all that successful in creating turnovers. What the Wolfpack did do, however, with their pressing tactics was to wear down the Sunnyside Christian players.
"We got a little tired and started missing our shots," said Wagenaar.
Wapato pulled away down the stretch, eventually outscoring the Christian varsity by a 31-22 margin in the second half to account for the final 53-38 score.
Broersma, even though he fouled out, led all Sunnyside Christian players in the scoring column with an eight-point effort. Teammate Kevin DeJong added a six-point performance, with Trevor Wagenaar and Tim DeVries chipping in three apiece. Ryker Van Belle accounted for the rest of the Sunnyside Christian varsity scoring with two points.
When Sunnyside Christian's varsity took the floor against the host Sunnyside Grizzlies, the Knights were on the short end of a 17-11 stick. Christian's varsity players went tit-for-tat with the Grizzlies, though, only getting outscored by a single point until a Grizzly hoopster hit a long, three-point bomb at the final buzzer. The final scored ended up 38-28 in favor of 3A Sunnyside.
Wagenaar said the Grizzlies applied pressure inside the paint, effectively limiting his club's inside scoring threat. "They were very physical...lots of bodies in there."
The 6'6" Broersma was held to four points in the losing cause. Wagenaar's son, Trevor, made up for it, however, with nine points, a couple of buckets coming on pull-up jumpers and another from behind the 3-point arc. DeJong and DeVries each added a two-point performance for the Knights.
This coming Friday the Knights will play their first regulation-length game of the season when they host 2B Liberty Christian of Richland.