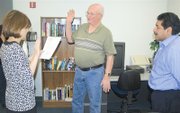 A city code enforcement officer will be hired in 2010, but three street department positions have been left out and the proposed Battalion Chief/Fire Marshal position is in limbo.
These were the decisions the Sunnyside City Council made last night as they tied up any loose ends to the 2010 city budget.
City staff had set aside $58,000 in the general fund to pay for the new code enforcement officer but then decided to split the costs between the general fund and the garbage fund. The move will save $29,000 from the general fund.
City staff had originally recommended filling three vacant positions in the street department but over several budget workshops last month various council members expressed concern with this action. At issue was whether the city needed three more workers in the street department and instead council asked about using seasonal employees for any extra work that might arise.
City staff decided to scrap the idea and instead has set aside $75,000 for 2010 to handle any extra work that might be needed. Sunnyside interim City Manager Jim Bridges told the council that the funds could be used to hire one full-time employee and two part-time seasonal employees, or four part-time seasonal employees.
If seasonal employees were to be hired then the city would need to modify its contract with the Teamsters Union.
The bulk of last night's meeting covered the Battalion Chief/Fire Marshal position, which council couldn't find any real justification for the added $84,000 expense.
The lone holdout was Sunnyside Mayor Paul Garcia, who said the position was warranted so the city could catch up on delinquent fire inspections.
Sunnyside Fire Chief Aaron Markham wanted the vacant position to be filled for just that reason. With approximately 600 inspections needed each year, he told the council the fire department was lucky to get 400 done a year. This has caused needed inspections to pile up.
He also wanted a Battalion Chief so the pressure on him and Sunnyside Deputy Fire Chief Lloyd Hazzard could be eased. As of now it is only those two that have command positions in the department, which means one of them must be on call at all times.
But most of the council was still not swayed.
Sunnyside City Councilwoman Theresa Hancock said she was reluctant to add the position and would like to see other options where the city could catch up on its fire inspections.
Newly elected Councilman Mike Farmer, sworn in just prior to the budget deliberations, asked what percentage of time the new hire would spend in a command position instead of doing fire inspections.
Markham didn't have any concrete numbers, but guessed maybe 15 percent. Farmer said he couldn't justify the added expense for that number.
Although Councilmen Tom Gehlen, Nick Paulakis and Farmer, plus Councilwomen Hancock and Carol Stone did think there was a need for the position, they just couldn't justify the cost.
But council comprimised and decided to budget for the position anyway and then take another look at it in January when Markham can get some more numbers to them.
In other action taken at last night's budget workshop, $46,000 was cut from the budget that was to go towards a new Spillman server for the police department. This was left out because Yakima County is in the process of implementing a county-wide system that would connect every police department in Yakima County. As of now, Sunnyside and other police departments are on separate systems.
One other request was granted at last night's meeting. Farmer asked the city to set aside $30,000 to try and get the parks and recreation department operational again. The rest of council agreed with this request but no timetable was set for when the department would be up and running, or if it ever would. Council wants to hear recommendations from the city's parks and recreation committee before any decisions are made.
City staff will now put the final numbers for the 2010 budget together and council should adopt it at the Dec. 14 meeting.