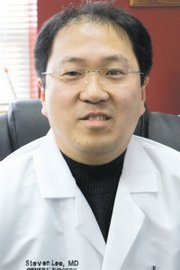 Dr. Steven Lee of Sunnyside has treated numerous patients afflicted by breast cancer. Based on that experience, he doesn't side with the recent recommendations provided by the federal government's Preventative Services Task Force.
"There are proponents and obviously others opposed to the recommendations," he shared, stating both the American Cancer Society and the American College of Surgeons are opposed to the recommendations, as is he.
He said the old recommendation, which he stands by, was for women ages 40 and over to have a mammogram every year. The new recommendation caused quite a stir nationally, advising women to wait until the age of 50 before getting their first mammogram. That recommendation also advises them to have a mammogram every other year as opposed to annually.
"My experience shows the benefit of early detection," Lee said.
He said the argument for the new recommendation is that there are too many patients to screen under the old recommendations. Proponents of the new recommendations argue that reducing those numbers outweighs the benefit of having one woman among those screened diagnosed and treated for breast cancer.
The Sunnyside doctor said he feels it is better to help that one patient among the many who are screened, however.
"What if you are that one patient?" he said, adding the one patient could be your mother, wife, daughter or sister.
Lee said treating breast cancer early makes sense because it increases the survival of the patient.
"The patient and her family members will appreciate early detection...this is a disease that can be beat and it's silly to argue against one patient's survival because of the number of those who must be screened," he added.
"Personally, I will stick to the American Cancer Society and the American College of Surgeons (suggestions)."
Lee noted every patient is unique and advises each individual to discuss with their personal physician what is best in their case.
"They should discuss their health history and personal risk factors to tailor treatment and preventative measures that are best for all personal health concerns," he shared.
Lee hasn't seen any cases of breast cancer at his Sunnyside practice yet. He said that could be due in part to the ages of those he treats. He did, however, treat numerous women afflicted with the disease prior to arriving in the Lower Valley.
He said there are several risk factors to take into consideration when talking to a physician.
"First of all women are at higher risk than men," Lee shared, stating age, familial history of breast cancer, hormone usage, smoking and alcohol consumption all should be considered risk factors.
He said women who breast feed their children and have children before the age of 30 reduce their risk of the disease.
Asian, Hispanic, Native American and African American women are at a lower risk than Caucasians, Lee added.
When asked about the Preventative Services Task Force advice on self-exams, which they state is inadvisable, Lee again disagrees. He said he still recommends women familiarize themselves with the texture and variations of their breasts.
"Know your lumps and bumps...anything unusual should be discussed with your physician," he stated.
Discharge is another concern women should take into consideration and ask their doctor about.
As to concerns about exposure to radiation from a mammogram, Lee said, "Mammography is, in my opinion, safe and radiation exposure is not a risk to patients."
He said the bigger issue is receiving false positives. In which case, he said additional tests should follow a positive mammogram.
Lee said there is a lot of information available for patients concerned about breast cancer and the potential risk factors.
He advised those seeking further information to visit the Susan G. Komen organization website (www.komen.org) or the American Cancer Society website (www.cancer.org).
"These are friendly websites to help women and their families better understand the disease," Lee stated.