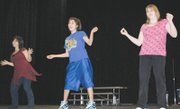 Students at Sunnyside High School this week have been auditioning for the 1999 revival version of the musical "Annie Get Your Gun."
Irving Berlin wrote the masterful classic, featuring the song "Anything You Can Do," popular in commercials as well as the musical.
Corey Murphy will direct the production, and is being assisted by Laura Leach and Felicia Abbott in providing a fun-filled, entertaining performance.
Murphy said approximately 40 students will be able to take to the stage in "Annie Get Your Gun," a fictionalized story about the life of Annie Oakley, the famous sharpshooter who lived between 1860 and 1926.
Also characterized in the musical will be Oakley's husband, Frank Butler.
"There will be four major singing parts for the boys and two major singing parts for the girls," said Murphy.
Those parts include Annie, Frank, Annie's friend Dolly Tate and the legendary Buffalo Bill.
Murphy said there will also be four major speaking roles for the boys, giving the Sunnyside High School male population a chance to "shine" on stage.
The students will be singing, dancing and acting in what he calls a "jazzy, punchy and exciting" Broadway production.
"It's expected to be a lot of fun and a lot of hard work for the students," said Murphy.
He said audiences are certain to be pleased with the production, which celebrates the life and times of a true American legend.
"Annie Get Your Gun" will open at Sunnyside High School's auditorium at the end of February 2010.